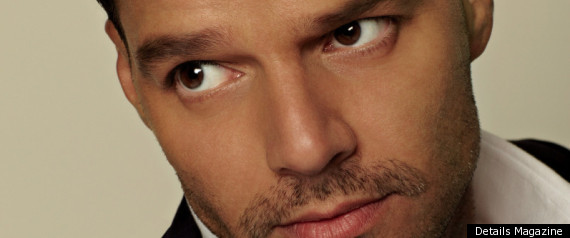 It's been a long ride For Ricky Martin, but at 40, the "Livin' La Vida Loca" singer has no time for regrets. He's too busy joking with the Dalai Lama and staying in shape with his secret workout. (Hint: He bangs.)
DETAILS: You once asked a pilot to make an unplanned landing in Puerto Rico so you could have a quick visit with your grandmother. What's the most spontaneous thing you've ever done for a man?
Ricky Martin:
I canceled a show once to be with someone that I loved.
DETAILS: You actually canceled a concert?
Ricky Martin:
I had one day. I thought, "You live in another country. I live in another country. This is incredible and I feel amazing." My manager came up with some excuse. It was the most expensive date I've ever been on. But hey, that was a very beautiful day.
DETAILS: Do you regret waiting so long to come out? Does it feel like you wasted time?
Ricky Martin:
You know, when I hear about a boy or girl that comes out when they're 15, I'm like, "You're so lucky! Kudos." I will give you a standing ovation. But there's nothing you can do about it. You have to go through yesterday to be who you are today.
DETAILS: When you came out, you said, "I am very blessed to be who I am." What did you mean?
Ricky Martin:
Well, I don't know who your God is, but my God doesn't make mistakes.
DETAILS: Would George W. Bush agree? You sang at his inauguration in 2001, but later at a concert you flipped the bird while singing about him.
Ricky Martin:
They gave me the opportunity to represent the Latin community in the inauguration. It was beyond politics. The next day I was in 85 newspapers around the world—front page. A lot of people said, "Would you take a picture with him again?" I said, "Well, he has to do a lot about human trafficking in order for that to happen." Now I'd say he has to do a lot about human trafficking and the LGBT community.
DETAILS: You've been dating the same man, Carlos Gonzàlez Abella, for more than four years. Does it bother you that marriage equality isn't a reality?
Ricky Martin:
I don't want to blame the government. I think there's a stolen faith—an interpretation of what God "says." That's your God—I have my God. It's about civil rights. I'm not telling you what to believe. I wish people understood that love manifests in different ways. Allow me to have my life and I won't mess with yours. That's when I struggle and get angry and punch the table. And then I talk. Martin Luther King Jr. said, "Our lives begin to end the day we become silent about things that matter."
DETAILS: A lot people assumed you applied for Spanish citizenship so you and Carlos could get married.
Ricky Martin:
Trust me, everybody is asking me when I'm going to get married. People that I don't know are pushing it. But it's not something that we're talking about.
DETAILS: What's the difference between dating a man and dating a woman, besides the obvious?
Ricky Martin:
I don't like generalizing, but when a guy says, "I like you" he means I like you. When he says "I love you" he means I love you.
DETAILS: I read somewhere that the two of you are renting a $32,000-a-month apartment.
Ricky Martin:
Well, I don't need anything to live, to be honest. Give me a mattress or a futon on the floor and I'll be the happiest camper.
DETAILS: The apartment is 3,500 square feet . . .
Ricky Martin:
But then all of a sudden, from one futon I need five bedrooms. There's me. My kids have a room. The nanny has a room. I'm very lucky to say that my mom, she's traveling with me and she's helping me to raise my kids. And then the kids start going to school next week.
DETAILS: What was the competition like for getting into school in Manhattan?
Ricky Martin:
You have no idea. A lot of people told me about this, and I didn't know until I actually embarked on the mission. There are documentaries on this. I had to write an essay about my kids. This is pre-K. This is not college. But I understand that's how it goes. I sat in front of my computer and I opened my heart. Apparently we're in.
DETAILS: In your memoir,
Me
, you write about your interest in Buddhism. Have you met the Dalai Lama?
Ricky Martin:
They say you only meet the Dalai Lama if, karmically, you are in the right place to meet. After the fourth time I was supposed to meet him, his managers called: Did I want to come to New Delhi to meet him? I hopped on a plane from Paris. We're flying over Afghanistan, but the pilot said they closed the air space. Do you know how intense that is? You're about to meet His Holiness and there is a wall in the air telling you, "No, it's not your time yet." I told the captain, "We can go back home."
DETAILS: Did you ever end up meeting?
Ricky Martin:
He came to a conference in New York City and we met. You know, silence was enough. "Let me just admire your presence." But he's in touch with the child within—he was making jokes. Silly, beautiful jokes. He has an amazing sense of humor.
DETAILS: When was the last time you took your clothes off and went dancing in the rain, like you sing in "Livin' La Vida Loca"?
Ricky Martin: It's funny that you say that. I just did it on my vacation to French Polynesia.
DETAILS: How did it feel?
Ricky Martin: Liberating, cathartic, beautiful. Once again, man, it's all about being in touch with the child inside. When you take things too seriously, you get old. You have to be silly. Whenever people say, "Hey, man, are you ever going to grow up?" That's when you know you're doing things right.
DETAILS: You're about to open in a revival of Evita on Broadway. Did the show resonate with you?
Ricky Martin: You know, "High Flying, Adored" is a beautiful song—and the story of it touches me in many ways. The lyric "so young, the instant queen" resonates. I started in this business when I was 11. One day I'm riding a bicycle in my neighborhood, the next day I auditioned for Menudo and was on a plane to perform in front of 200,000 people.
DETAILS: What was that kind of attention like?
Ricky Martin: Being a part of a boy band, you'd move your hips and girls would scream. I was only 12—I was a child. There was a guy that was 16. He would shake his hips better than me and he'd get more screams. It was like, "Oh shit, I'm sexy. But I'm not that sexy."
DETAILS: The last time you were on Broadway was in Les Misérables in 1996, alongside an 8-year-old Lea Michele. You recently shot an episode of Glee. Did that make you feel old?
Ricky Martin: I'm in a really cool place in my life. I feel great. I go to the gym. I do yoga. I'm a father to two toddlers, and lifting them is a workout—this is biceps, this is triceps. I also try to make love. That helps.
DETAILS: I thought new parents were too tired to have sex.
Ricky Martin: You just have to know how and when to do it. But it's funny. Sometimes it's like, "What, now? On cue?" No, it's not on cue. You just have to be creative.